Originally posted at Food & Dining Magazine on 15 Nov 2021.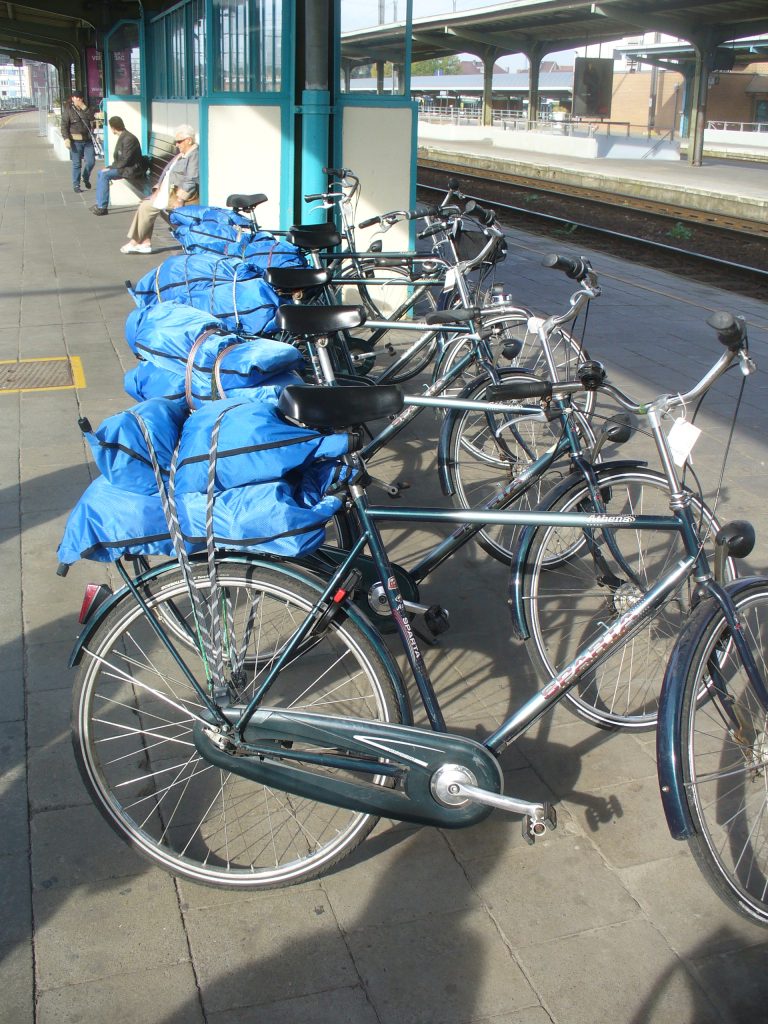 In a previous life, I fancied myself a group tour operator, and for a while it worked out fairly well.
To no one's great surprise, my bus and bicycle jaunts centered entirely on Europe and beer, two topics very close to my heart ever since the deciding moment, just before Christmas in fifth grade, when I realized I'd been duped.
No, not misled about Santa Claus.
I'm speaking of the drunken stork who mistook New Albany on the Ohio for Neuburg an der Donau, and deposited me on the wrong damn continent.
Eventually there was a fork in the road, and I was compelled to make a choice between two fermentable possibilities: either ramping up the beer tourism trade or expanding NABC's brewing operation. I opted for the latter.
So much for coin flips.
Bank Street Brewhouse proved to be both aesthetic victory and fiscal Waterloo, and given the less than salutary outcome (the business no longer exists, and neither does my ownership share), periodically I question my sanity in choosing as I did, given that leading a tour group to the original Waterloo battlefield in Belgium with cool Witbier in hand would have been far less stressful, and probably more remunerative.
Anyway, the finale of my Euro beer bus tours came in September, 2004, and it was grand, indeed. There were two countries (Czech Republic and Germany), 20 or so eager participants, 14 organized brewery tours, visits to at least 20 other breweries along the way (most of them old-school brewery restaurants), as well as a look into Bamberg's Weyermann malting house and an afternoon at Oktoberfest in Munich.
The philosophy major in me abhors our society's serial overuse of the words "perfect" and "perfection," because I defy you to prove that such concepts really exist. Don't restaurant menus across America lie shamelessly when suggesting that the slab of quivering meat you've ordered will come grilled to "perfection"?
However, I must concede that the 2004 beer bus trip came perilously close to perfection. How great was it? The company in Germany I chose to provide motor coach transportation and guide services was, and remains, the Reisebüro Maria Beer e.K., and we rode on a bus emblazoned with the business's and family's name: Beer Tours.
Talk about truth in advertising.
Granted, the German word for beer is "bier," but still, the arrangement was replete with good karma for everyone, and the only issue we experienced during the journey, apart from pesky hangovers, was a bee sting in Mariánské Lázně.
Early on during the planning stages, Maria suggested stopping at the Brauerei Michael Plank for an end-of-day meal at Plank's Gasthof (public house) and a peek into the brewery. So it was that the bus came to a stop in Laaber, west of Regensburg.
We saw a stately old structure facing a charming Bavarian town square, as bucolic a jigsaw puzzle scene as might be imagined. Inside was the venue for Plank's hospitality, adorned with wood paneling and big communal tables, and exuding the formal but warm welcome you'd expect to receive in the heartland of Gemütlichkeit.
We quickly learned that the Plank brewery specializes in Bavarian-style Hefeweizen (wheat) ales, including standard strength versions and both pale and dark Weizen Bocks. Subsequently the brewery captured numerous medals in competitions like the World Beer Cup, paving the way for an export arrangement with B. United International in Connecticut.
As a beer tourist in 2004, Plank was just another in a uniformly excellent series of German breweries, with delicious beer and food, to which I hoped to return some day with more time on my hands.
When the group members were finished devouring their meals, we were escorted through a door from the public area into the brewery proper, and a completely different interior space with a modern brewing system, all stainless steel and touch-pad automation. It was like boarding the Starship Enterprise from a 19th-century clipper ship.
Owner Michael Plank explained that his brother had worked for Krones, the fabled German maker of brewing and bottling equipment, and this state-of-the-art brewhouse upgrade was available to the family at a very competitive price as a modernization necessary for them to remain viable well into the future.
However this juxtaposition of old and new fixtures wasn't the most amazing thing we learned on that late afternoon in Laaber. Rather, it was the Plank family's view of succession for an independent small business like theirs.
Plank told us that he was the 16th straight first-born Plank son to be named Michael, with his own son being the 17th. The brewery dates to 1617, and one or the other Michael Plank has been the owner for much of its more "recent" history. As reported by the Bavarian Air Force blog in 2011:
On my last visit to his brewery, I had to ask, "How does your family keep having first-born boys to ensure the name continues?"
"You must wear your brewer boots," he replied with a grin. Those of you who may be professional brewers will know what I mean.
Our visit with Michael Plank 17 years ago came to mind last week when Larry Bell, founder of the eponymous Michigan brewery and a true American beer hero, announced his immediate retirement following the sale of his 36-year-old creation.
Kirin-owned Lion Little World Beverages has struck a deal to acquire Bell's Brewery, the second largest craft brewery in Michigan and the seventh largest Brewers Association-defined craft brewery by volume in 2020.
Bell's will join New Belgium as the second piece in the international beer manufacturer's U.S. craft brewery platform, following the 2019 acquisition of Fort Collins, Colorado-based New Belgium. Once complete, the deal will create the fifth-largest craft brewery control group, trailing Anheuser-Busch's Brewers Collective, D.G. Yuengling & Son, Molson Coors' Tenth & Blake, and Boston Beer Company.
The predictable clamor immediately surged, and I elected to tune out most of it out with the exception of this comment by whiskey and beer writer Lew Bryson, who speaks Bourbon.
For all you people who are freaking out over Bell's being sold to Kirin, I have two words of comfort for you.
Four Roses.
There is no question that Four Roses is in a much better position than it was before the sale to Kirin. The whiskey is even better.
Calm down.
When the Bell's Brewery production facility in Comstock, Michigan debuted in early 2003, I was invited to the grand opening. It was only a few months after the small original NABC brewery began operations; unlike Bank Street Brewhouse, it's still a going concern.
We'd been selling Bell's Two Hearted Ale at the Public House since it began to be distributed in Indiana, depleting a keg a week like clockwork. In my view, Two Hearted was the gateway IPA for an entire generation, and when my new career at Pints&union came along in 2018, I had long since concluded that no better an example existed, retro or otherwise, of an honest, everyday hoppy ale. Yet again, Two Hearted is good for cashing a keg a week.
So, in 2003 the NABC brew team drove up through the snow drifts to Comstock and had a wonderful time at the dedication ceremony, the culmination of which came late in the evening back at the Eccentric Café in Kalamazoo, when I found myself sitting off in a quiet corner with Larry for an hour's conversation about Russian history and literature. In 2008, he returned the favor and attended a Gravity Head Saturday at the Public House.
It's hardly a secret that I am an exceedingly reluctant capitalist, which might account for my own "retirement" account still waiting patiently for its first deposit. All the same, I've long since given up denying the realities of the capitalist system into which that idiot stork dropped me. It isn't acceptance so much as admission of my own impotence, and a recognition that 60-year-old revolutionaries are rare on the ground.
As such, if you'll be taking my advice from last week's column and resolve to read Tom Acitelli's book The Audacity of Hops, you'll soon understand that back during the dawn of history – say, 1976 – those uneasy bedfellows known as "art" and "commerce" began jousting for primacy out in Sonoma roughly five minutes after Jack McAuliffe produced his first batch of New Albion ale.
And, as micro/craft/better/whatever/brewing has unfolded, there have been successes, failures, mergers, acquisitions, high achievement and witless tomfoolery, all in equal measure, because not one jot of it can be considered to be occurring in a vacuum impervious to capitalism's imperatives.
Consequently, in my view Larry has won at an unforgivingly difficult game, and if you've never been in the dollars and cents arena competing – if you've never played and wound up losing, as I did – then maybe you're the one to look the other way and vow an eternal boycott of Bell's Brewery beers.
It's your right to do so, of course, and ten years ago I might have agreed, but we'd both be missing the point, because the business of brewing beer is precisely that: a business, and not everyone is cut out to own one.
Full credit goes to all those brewers like Plank who've kept it in the family, who began brewing 400 years ago with an innovative succession plan involving 17 consecutive first-born male sons named Michael. It's incredible, and also as insanely rare as July snowstorms in Mississippi.
Some years ago Matthias Trum, sixth-generation owner of Schlenkerla in Bamberg (90 miles from Laaber), told me how his grandmother, the family matriarch, insisted that young Matthias, an only child, be given the opportunity to determine his own destiny when it came to assuming control over the family business. He would go to university first and study the world apart from brewing science, then decide for himself.
Matthias chose to stay, and beer lovers are suitably grateful. But what if he hadn't?
It's hard to imagine, but Matthias might have chosen to be a doctor or lawyer, or to sell the brewery to another brewing company, or even to cash out for the benefit of his own children, given the lucrative potential redevelopment value of Brauerei Heller-Trum's center city properties in Bamberg.
On a recent Drink Beer, Think Beer podcast with John Holl, the guest was Alan Sprints, who founded Hair of the Dog Brewing Company in Portland, Oregon in 1993. The 62-year-old Sprints ruminated about the future of his tiny, renowned brew house. He'd always assumed his children would carry the legacy forward; now they have their own lives outside of beer and aren't interested. Should he continue to clutch the mash paddle until death, sell the business and hope for the best, or dissolve it now and enjoy a satisfied retirement?
In the end, I have no idea how Larry's family dynamic impacted his decision to sell, and yet he didn't shirk from the decision. Kirin is huge company, although as Lew notes, Japanese drinks conglomerates tend toward conservatism when stewarding their investments, as opposed to unmitigated disasters like Constellation Brands' high dollar acquisition and subsequent loss leader disposal of Ballast Point a few years ago.
Yes, there'll always be other sides to a story like this one, and fortunately in 2021 we have dozens of locally-owned breweries within a hundred-mile radius of Louisville, each of them fully capable of becoming your preferred go-to spot for beers if you've decided that Bell's Brewery is no longer worthy of your patronage because Larry "sold out."
But to the notion that his transaction was an affront, a pants-down socialist like me joins my lazy-fare capitalist counterparts and replies, "pfui."
I was alive and drinking beer in 1985, so trust me when I remind all and sundry that beer choices were painfully few in those days.
Today, we actually have beer choices in America, thanks to brewing pioneers like Larry Bell. The man did more than his share to rectify the imbalance, and he deserves his retirement.
Way to go, Larry
Photo credit: The bicycle lineup is from the author's collection. The cover is Karen Bujak's great shot of our Beer bus and its drivers in Germany, 2004.