Originally published at Food & Dining Magazine on 21 December 2019.
—
Your correspondent and his lovely wife spent time before and after Thanksgiving across the pond: In Zagreb (Croatia), Ljubljana and Lake Bled (Slovenia) and Trieste (Italy). In addition to taking a break from the everyday and enjoying the many sights in this always  fascinating corner of Europe, we sought as always to taste just a bit of these faraway locales.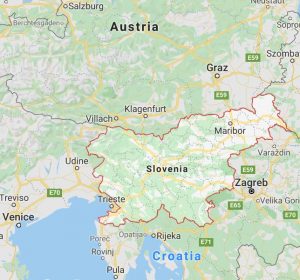 In culinary terms, what we experienced was a rich mélange of historical and cultural influences, from Turkish-derived grilled meats to Germanic platters of pork and potatoes, with amazing Viennese-inspired desserts throughout and perhaps Italy's finest coffee in the port city of Trieste, headquarters of Illy.
These areas were controlled for centuries by the Habsburg dynasty (the Austrian and later Austro-Hungarian empire), and so it's no great surprise that German and middle/central European legacies are strong. Trieste became part of Italy only after World War I, while Croatia and Slovenia achieved independence in 1991, precipitating the collapse of Yugoslavia. We visited parts of three countries, although there is a palpable sense of regionally shared interests.
Following are a sampling of items drawn from many excellent meals.
Jota
One of the signature dishes of Trieste, Jota is bean soup with potatoes, pork (smoked rib meat or ham) and sauerkraut. The latter isn't an ingredient generally associated with Italian cooking; then again, Italian unification occurred just after America's Civil War, and many areas in the northern Friuli-Venezia Giulia province retain a palpable Austrian undercurrent. Triestine staples we missed include La Calandraca (fisherman's potato stew with salted mutton or other meats), a version of Hungarian-style goulash with polenta instead of potatoes, and a local variant of apfelstrudel. As for Italian flavors, the pizza we ate in Trieste was first-rate.
Schnitzel in the Ljubljana Style
The majority of restaurants we patronized in Slovenia offer veal and pork schnitzel; chicken or turkey schnitzel is common, too. When I first was served a pork schnitzel cooked in the style of Ljubljana (the capital city, once called Laibach), I was disappointed at the smaller-than-usual size. Then the thickness became evident. It is pork hammered thin, not so much "stuffed" as wrapped around ham and cheese, breaded and fried, and generally served with fried or boiled potatoes. As a trained trencherman, I finished mine – just barely.
Kremna Rezina
Slovenia's enduringly beautiful Lake Bled has been a tourist destination since medieval pilgrims made their way to the church on the island depicted in a thousand jigsaw puzzles. The forests and peaks of the Julian Alps are near, and you'll see venison and boar on eatery menus. However the most famous dish from Lake Bled is Kremna Rezina, or cream cake, "characterized by delicate puff pastry atop layers of light vanilla cream and custard."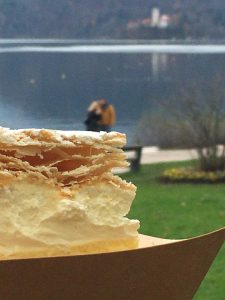 Cream cake can be found throughout the old-time Habsburg domains, but the particular recipe created by a Hungarian chef from Serbia who moved to Slovenia after World War II for a job at the Park Hotel – this being a characteristically Yugoslav story – now is considered the gold standard and has been granted a protected designation of origin status.
Štruklji
A central Slovenian specialty is štruklji, a roll of layered phyllo dough stuffed with savory or sweet fillings, and boiled or baked. The most popular savory štruklji are made with cottage cheese and spiced with tarragon, vaguely reminiscent of a Polish pierogi or Czech knedlicky dumplings.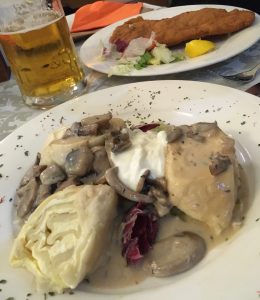 They're versatile, suitable as a main course or a side with meat. Sweet versions feature apples, walnuts, poppy seeds and other dessert-friendly options.
Pljeskavica, Cevapcici and Burek
Fear not; you won't be tested on spelling, grammar or pronunciation. They're trouble enough for me. As sighted and sampled near Zagreb's sprawling central market, pljeskavica is a medium-sized spicy burger patty, and cevapcici are sausages, slightly larger than breakfast links in the American sense. Burek is a savory pastry made with phyllo dough and filled with meat or spinach. These are classic examples of street food in the former Yugoslavia and vicinity, the local equivalent of döner kebab or tacos; in 1987 when I was backpacking in the Balkans, I honestly lived off them. These foods are rooted in centuries of Turkish occupation, and may be familiar to Louisvillians owing to our Bosnian immigrant community.
Prekmurska gibanica
Prekmurje is Slovenia's easternmost region, bordered to the north by Austria, the east by Hungary and the south by Croatia. Prekmurje is considered a distinct cultural and linguistic region, and has a Hungarian minority (the country as a whole is 83% Slovene). Prekmurska gibanica is a tall, cool, glorious cake with multiple layers: cottage cheese, poppy seeds, apples and walnuts. In fact, Prekmurska gibanica is such an important dessert that it has been given protected status under Slovenia's "Traditional Specialty Guaranteed," and consequently commercial examples must follow the official, traditional recipe.
Pelinkovac
A bitter herbal liqueur native to the Balkans, pelinkovac is produced by macerating an herb from the wormwood family called pelin in a neutral distillate along with various other "secret ingredients," yielding a beverage pitched somewhere between Underberg and Jagermeister. Our sample of pelinkovac came at the conclusion of a memorable tourist's Thanksgiving Day meal at Gostilna Pri Kolovratu, a restaurant located adjacent to the main cathedral in Ljubljana. There have been cafes and eateries operating continuously on the site since 1836.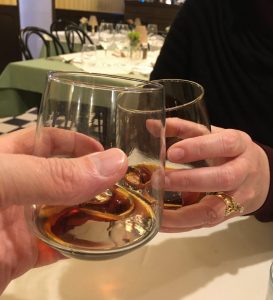 The combined bill of fare included barley soup with sausage; "Vodnik" salad from the first ever Slovene cookbook in 1799 (local greens, beets, cauliflower, hard-boiled egg); lamb knuckle and ribeye steak (both locally sourced); and Slovenian merlot. We'd been at Pri Kolovratu previously for coffee and dessert – you guessed it, Prekmurska Gibanica and apple Štruklji.
The breakfast buffet at our "wellness hotel" in Bled had dozens of items, among them a table topped with traditional Slovenian morning edibles, one of which was just plain lard with meaty bits, meant for smearing on biscuit-like rolls, the flavor of which proved oddly compelling accompanied by strong black Italian roast coffee.
(The featured photo is of the sauerkraut stand at Ljubljana's central market. For the complete travelogue, visit my former blog)