Originally published at Food & Dining Magazine on 8 November 2021.
Let's begin the week with variations in the art of flag-waving.
Nothing makes me feel quite as patriotic as great beer, and unlike the customary nation-state-bound variety of patriotism, "greater planetary beerism" skips across geopolitical boundaries.
The above video, which made me stand up, salute and reach for a Trappist (ale), comes to us courtesy of Visitflanders.com, the official website for tourism information about Flanders (Flemish-speaking Belgium).
Watch it, and you'll know why I love that sub-section of the planet.
—
Back in Louisville, there is a detailed update on Noble Funk Brewery's progress toward becoming the city's latest bastion of fermentation.
New brewery in former Old Louisville Kroger eyeing soft opening in coming weeks, by Sam Draut (WDRB-41)
The brewery that moved into the former Kroger on Second Street in Old Louisville is hoping to host its soft opening in the coming weeks. Noble Funk Brewery began remodeling the former grocery store space now called 'The 922' with more than 28,000 square feet earlier this year.
All the best to the team at Noble Funk, and a confession I feel obliged to disclose: I'm so old that every time I see this brewery's name, it comes out of me as Noble Funk Railroad.
Too many gravity beers for too long, I suppose, or maybe it's just inside looking out.
—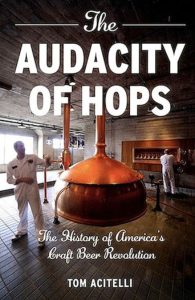 Let's turn to the amazing tale of beer's comeback in America since the 1970s.
There are many memorable anecdotes in Tom Acitelli's The Audacity of Hops, a well-executed survey of recent American brewing history during the "craft beer" era. Revised and expanded in 2017, it is a book I highly recommend.
One of the finest stories involves the chaotic beginnings of Shmaltz Brewing Company, "the only Jewish beer company in America," founded by Jeremy Cowan a quarter-century ago. As you might guess, Cowan is Jewish.
In 2003 Cowan was in New York City riding along with a man named Nidal, his sales rep, schlepping six-packs to a succession of accounts. They found themselves in a bodega in Hell's Kitchen, with the Muslim owner behind the counter slightly flustered as to why he was so much as listening to a sales pitch for Jewish beer.
Nidal, himself a Palestinian immigrant, shrugged. "It's just beer – just business." The owner looked around the room, then back at Cowan and Nidal. "All right," he said. "Send me a case of each and we'll see how it goes."
Holy crap! Cowan thought. He had sold a Jewish beer with a Palestinian refugee educated in Italy, the husband of a Dominican woman, to a Muslim from Yemen in a neighborhood famous for Irish gangsters. Only in America.
Cowan has already written one entertaining book about his adventures (Craft Beer Bar Mitzvah: How It Took 13 Years, Extreme Jewish Brewing, and Circus Sideshow Freaks to Make Shmaltz Brewing an International Success, published in 2010), and given the length of the press release to follow here, it might require a second volume to explain how Cowan is choosing to bring Shmaltz to a fitting close: a farewell "season" like a television show, and a farewell tour, like a rock band.
Shmaltz Brewing — 'the only Jewish beer company in America' — is closing after 25 years, at Craft Brewing Business.
The biggest, the smallest, most award-winning, and still the only Jewish beer company in America, Shmaltz Brewing Co. just announced its farewell season after 25 years in the beer business with the first and final release of Bittersweet Lenny's RIPA in 16-oz cans, vintage gems from the Shmaltz beer vault, and a fitting tribute, Exodus 2021 Barleywine Ale (8.8 percent ABV) brewed with date, fig, pomegranate and grape.
According to Acitelli, during the late 1970s respected brewing industry analysts like Bob Weinberg "predicted one or two American breweries by the 21st century." In 2020, there were 8,764, and we may have broken the 9,000 mark by now. This article by Acitelli at Food Republic acts as a preview of his book, focusing on Jack McAuliffe's groundbreaking New Albion Brewing Company, and why it matters so much.
Why We're Still Talking About The New Albion Brewing Company 40 Years Later
On October 8, 1976, an ex–Navy mechanic-turned-contractor filed incorporation papers with the state of California for what he called the New Albion Brewing Co. It was the first new brewery in the United States since the end of Prohibition in 1933, and it marked the true advent of what we know today as craft beer and all that comes with it.
Today's photo credit is Jack McAuliffe, courtesy of the new New Albion Brewing, which was revived in 2013. McAuliffe's daughter now owns the company, with McAuliffe's original recipes being contract-brewed at BrewDog in Columbus OH.