German consular official: "Yes, Mr. Baylor, we see you're requesting asylum in our country. Can you explain why you'd like to live in Germany?
Me: Must. Escape. Mister "X".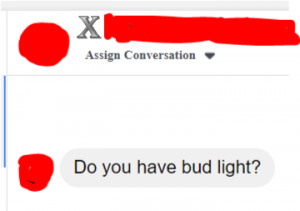 Dude's been following me around my entire career.
—
Yesterday my friend and boss Joe Phillips, the resident mastermind at Pints&union, made an announcement about the advent of Common Haus, a German-themed restaurant coming soon to 134 Spring Street in Jeffersonville. For out-of-towners, it's about six miles as the crow flies from our pub in New Albany.
So pleased to announce we will be opening our sister restaurant @common_haus_jeffersonville. Bavarian Beer hall, full…

Posted by Pints&union on Monday, March 29, 2021
Obviously, we've been plotting and scheming for quite some time in anticipation of this opportunity, and it will come as no surprise to anyone who knows me well that having the chance to build a German-based beer program is a lifelong dream, one I wasn't sure would ever come along.
The building was damaged by a minor upstairs fire 16 months ago, although not badly, and the agile folks at Resch Construction have commenced renovations. If everything goes as planned, the opening will be in autumn 2021.
The space is cavernous by the standards of Pints&union, with three floors, two decks, and a small parking area on the building's southeast side that will be converted into a beer garden. If you've been to the Hofbrauhaus in Newport KY, opposite Cincinnati, then the potential should come immediately into focus. The Big Four walking bridge's Indiana access is a block away, and Lynn Family (soccer) Stadium is short walk from the structure's landing on the Kentucky side.
Naturally 1,001 details about Common Haus are yet to be enumerated, much less resolved, and anything I say at present possesses a short shelf life. Also, I'm not the kitchen, and while I can say with accuracy that German food is the goal, there's no way for me to know exactly which dishes, yet.
But my loyal readers will want to know my preliminary thoughts about the beer program — and what a coincidence! You see, back on February 8 in my weekly "Hip Hops" beer column at Food & Dining Magazine, I did precisely that. The relevant portion of the column is repeated here, although I've updated it in light of more recent developments.
—
Much of the time my thought processes run low and slow, as with this article from the Courier Journal, which was published during the first week of January.
Here's where to warm up with authentic German food and beer around Louisville, by Lennie Omalza
Rather than chatting with multiple owners of German restaurants, I connected with a couple of people who are offering up top-notch German food and beer: Annemarie Greipel, who has owned and operated Gasthaus with her husband and children since 1993; and Nathaniel Gravely, founder and president of Gravely Brewing, which was the only Kentucky brewery to snag medals at the 2020 Great American Beer Festival. Sprockets, its German pilsener, won a gold medal, and German wheat ale Doc's Dunkel took bronze.
When it comes to "German-ness," Gasthaus is as good as it gets in Louisville. As restaurants go, it is the equal of like-sized establishments in Germany, and in my opinion better than many. The Gasthaus beer list is stellar and includes 14 brands of beer, all in bottles, representing 10 different German beer styles.
There's no denying that Gravely is one of Louisville's finest breweries, but with all due respect to the author, it's not really the ideal of a "German" brewery – if we mean a daily focus on brewing German beers in the same way that Gasthaus serves textbook German meals. On Sunday, Gravely's website showed 13 beers on tap, with five variations on IPA, and only four styles traditionally associated with Germany.
Gordon Biersch's Louisville branch comes closer to this ideal. It began as primarily German-themed, and while branching out in other directions, Biersch retains the greatest number of German-legacy beers tapped on a daily basis (six out of ten as of Sunday).
(For a sense of the old-school possibilities elsewhere in Craft Beer Nation, see this list of America's best German-style breweries.)
All these thirst-inducing considerations have led me to undertake an instructive academic exercise right up here, in my noggin: What if I were given the opportunity to construct the beer program for a restaurant/bar specializing in German food, with 20 taps for pouring beers imported from Germany and environs?
Seeing as I know the Indiana wholesaler books, I'll start with them, although in all probability the same beers can be sourced in Kentucky. Bear in mind that we're undertaking a thought experiment, and nothing is etched in stone, or even PlayDough.
Paulaner Munich Lager (Helles "Pale" Lager)
Paulaner Pils (German Pilsner)
Paulaner Hefe-Weizen (Golden Wheat Ale)
Paulaner (or Stiegl) Grapefruit Radler (golden lager and fruit juice combined, low ABV)
Hacker-Pschorr Original Oktoberfest Marzen (old-school amber Oktoberfest)
Kostritzer Schwarzbier (Black Lager)
Ayinger Altbairisch Dunkel (Dark/Brown Lager)
Ottakringer Wiener Original (Vienna Lager, if available on draft)
Weihenstephaner Hefeweissbier Dunkel (Dark Wheat Ale)
Pilsner Urquell (Bohemian Pilsner)
Reissdorf Kolsch (Golden Ale from Cologne)
Uerige Classic ("Altbier," or a Brown Ale from Dusseldorf)
Anderson Valley Holy Gose (classic tart ale from Leipzig; AVBC is American, but they nail it)
Schlenkerla Marzen (Rauchbier)
St. Georgenbrau Keller (Rustic Lager)
Falls City Kentucky Common (Louisville's only indigenous beer style was developed by German brewers. It's also the name of our establishment!)
The Paulaners and Hacker-Pschorr, both fabled Munich breweries, come to American via Paulaner USA, which also imports Fuller's ales, which are staples at Pints&union. I've been working with Paulaner USA to outline our shared interests; they want to sell beer, and we'd like to be a showcase for their beers. Simple enough. Some of these will be less expensive, while others will cost more. Half-liter pours probably will remain the norm, but there'll be smaller pours and perhaps even flights.
This leaves four taps for specialties and seasonal shifts: Doppelbock in winter, yielding to other seasonal Bock beers in spring, followed by available Maibocks in late spring and early summer. Also, different wheat ales (like Berliner Weisse) appearing in hot weather, followed by Oktoberfests during the autumn season, and so forth.
Somewhere, a hophead laments: but RB, you traitorous potential expatriate, how can there not be a good ol' American-style IPA on tap?
India Pale Ale isn't exactly a Teutonic construct, is it? We're emulating Bavarian, not San Diegoan, and yet I believe a case can be made for a full-time IPA (local, perhaps), and/or an everyday fair price for tall cans of Bell's Two Hearted Ale, or any number of quality IPAs. There'll be plenty of room for selected cans and bottles suitable to cover a representative range of non-German styles. These choices can come later.
Hmm. I wonder if Victory Hop Devil is still available? Lot of hops on a foundation of German malt. Delicious. Wait, I see a hand waving from the nickel seats — yes, do you have a question?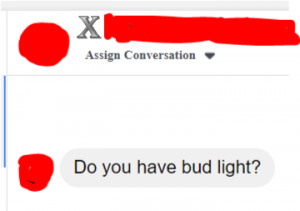 Nah. haven't heard of that one.
I think you're looking for the pet shampoo.
That's in aisle 13.
But seriously, yes, I'm guessing we'll have American mass-market options in cans for those unable to drink Paulaner Munich Lager (and a full bar, wine, spirits and seltzer).
By the way, the cover photo depicts the aftermath of a session at the Brauerei Wagner in Merkendorf, Germany (near Bamberg) in 2004. There were no milkshake IPAs, pastry stouts or kettle sours, dem Himmel sei Dank!